Community Outreach Meeting regarding Relocation Assistance through OakBrook
Relocation Assistance through OakBrook
Outreach is being offered in two ways:
A Community Outreach Meeting will be hosted to answer questions, hear comments, and provide intake for any boater who is interested in housing relocation services. Meeting details are as follows:
Thursday, February 16, 2023
3:00 – 7:00 PM
95 Harbor Master Road, South San Francisco, CA 94080
Boaters can also contact King Sze with OakBrook at their convenience to discuss their housing needs and plans for relocation by phone or email:
Phone: (628) 233-3213
Email: king@oakbrookpartners.com
There will be an opportunity for the public to ask questions at the Community Outreach Meeting. As currently residing members of the Oyster Point Marina in the City of South San Francisco, the City and Harbor District invite you to provide feedback regarding your housing and slip permit needs at this meeting. We also invite you to reach out with any questions or concerns and have provided direct contact information below.
Nell Selander
Economic & Community Development Director
City of South San Francisco
nell.selander@ssf.net
Jim Smith
Harbormaster, Oyster Point Marina
San Mateo County Harbor District
jsmith@smharbor.com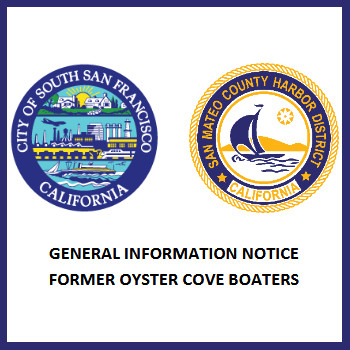 Read the full two page document by clicking here:
GENERAL INFORMATION NOTICE FORMER OYSTER COVE BOATERS
Oyster Point Marina
95 Harbor Master Road
South San Francisco
,
California
94080
United States
(650) 952-0808